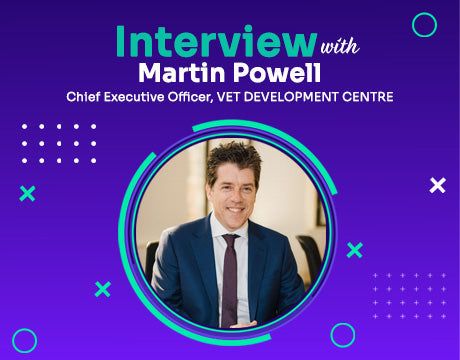 Interview with Martin Powell - Chief Executive Officer, VET DEVELOPMENT CENTRE
BIO:
Martin Powell BBus (Acc) GAICD
Chief Executive Officer
VET Development Centre
Mr Martin Powell commenced as the CEO at the VET Development Centre (VDC) in January 2016. Since this time, Martin has driven innovation and change at the VDC to support its goal to become a centre of excellence for continuous professional learning to the VET workforce.
The VDC Board has acknowledged the vision and considerable effort of Martin, who developed the business case and rationale for the establishment of the VDC permanent training facilities in Collins Street Melbourne. This initiative has enabled the VDC to expand its professional learning programs and consolidate its market presence to enable record participation. Martin has also refined the VDC team and streamlined business, marketing and corporate practices to enhance and stimulate engagement with the VDC by the professional workforce, government and other stakeholders.
Prior to joining the VDC, Martin has held prominent positions in the VET sector. Martin was the National Manager, Services / Victorian Executive Officer for the Australian Council for Private Education and Training (ACPET). With TVET Australia and the National Advisory for Tertiary Education, Skills and Employment (NATESE), Martin was Director of the National VET Equity Advisory Council (NVEAC), the COAG advisory committee responsible for independent social policy advice for those groups at risk of disadvantage. His experience extends to broader policy, project and program roles in public sector social policy in the areas of VET, health, corrections, youth services, mental health services, treasury and finance and industry
RESPONSES to questions for The VET Sector Magazine
Tell us about your professional journey leading up to your current role as CEO at VET Development Centre.
I commenced my professional working life as a graduate recruit in the Victorian Public Service in 1991 after completing a Bachelor of Business degree at Monash University. These programs provide graduates with exposure to a variety of different work environments. Before I settled into a financial analyst role at the Department of Treasury, other placements included accompanying conservation rangers and park managers conducting research for potential revenue streams from the amazing natural attractions they managed.
This experience gave me the confidence and intrigue to keep moving around and learning as much about different policy settings and roles as possible. This balanced well with the policy, administrative, financial disciplines developed at Treasury where a strong work ethic and tenacity to deliver was expected.
My journey took me to client contact roles at Immigration and Housing, before diverting to my other lifelong passion for rock music, being a full-time musician for a few years in the late 1990s. This was an amazing experience that has greatly assisted in event management at VDC. Then it was back to broader policy, project and program roles in public sector social policy in the 2000s in the areas of VET, health, corrections, youth services, and mental health services.
My first director role came in 2010 at TVET Australia as Director of the National VET Equity Advisory Council (NVEAC). NVEAC was a COAG advisory committee responsible for independent social policy advice for those groups at risk of disadvantage. I worked with highly dedicated VET professionals in the Indigenous, Disability and Social services sectors across Australia. The Chair was the late Tiga Bayles, an amazing Birri Gubba Gungalu man that pioneered First Nations Radio. Tiga gave me my break as an executive as well as an invaluable insight to the modern Indigenous perspective.
In 2014 I was fortunate to move to the position of Victorian Executive Officer for the Australian Council for Private Education and Training (ACPET), now ITECA. Working alongside CEO Rod Camm and Chair Mel Koumides and the many RTO member organisations provided an invaluable insight into the private training market.
In hindsight this unplanned journey through public, community, private sector policy and music now seems an intentional and perfect path to the CEO Role at VDC in 2016, as the organisation services VET Professionals and organisations across these sectors. And yes, I'm still a musician.
Why did you decide to pursue a career in vocational education and training?
I had gained experience working closely on the COAG intergovernmental agreement negotiations for Health in the early 2000s whilst at the Department of Human Services with the Deputy Secretary Jim Davidson. An opportunity came to transfer these skills to the Department of Education and Training and assist with the Victorian negotiations for the ANTA Agreement (VET Agreement in mid 2000s). Whilst these agreement negotiations were onerous and at times grinding processes, they provided a crash course in strategic overview for all aspects of the Health and VET systems. This led to my involvement in NVEAC, ACPET and now VDC over the past 15 years.
In your opinion, what are the key elements of a successful vocational training program?
Any education program must positively engage its participants. This is achieved by the education provider ensuring a welcoming environment that supports its educators and students with relevant and stimulating course content and resources that leads to a meaningful outcome.
A sense of empowerment through knowledge and producing job ready students are essential outcomes for a successful VET program.
With so many professional development programs, events, and workshops, what else does VET Development Centre do?
The purpose of the VDC is to promote the development and raise the professional standing of people working in VET. VDC has evolved since its establishment in 2005 to provide and host over 400 professional learning events for over 10,000 attendees annually. Our vision is to be the centre of excellence for continuing professional learning to the VET workforce.
With the small but dedicated team that we have at our Melbourne facilities we have been able to spread our reach regionally and nationally through online delivery. VDC was in the webinar space prior to the pandemic, but of course, the acceptance of online communication and education has blossomed as has the technology that supports it. We were early adaptors of the Zoom rooms hybrid training technology for live workshops that can also be attended virtually. VDC training rooms are also utilised by other education providers for this reason.
If 400 sessions weren't enough, in terms of what else we do - we manage and provide workforce development grants and new teacher fellowships through funding provided by the Victorian Skills Authority (VSA). We coordinate industry engagement activities for VET In Schools teachers and run tailored programs for TAFE, Private RTO and Community Based organisations upon request.
VDC oversees approved provider applications for additional government funding for training providers under Skills First. VDC also coordinates and conducts research projects for DET and the VSA, most recently in the areas of NDIS and Family Violence education, and the future of the VET Workforce.
VDC is the major sponsor of the Victorian Teacher/Trainer of the Year Award at the Victorian Training Awards and supports several VET related networks and peak organisations through in-kind services and support including: WorldSkills Australia; The Adult and Community Further Education Board of Victoria, the International Specialised Skills Institute, deafConnectEd, Victorian Association of TAFE Libraries, Women in Adult & Vocational Education (WAVE), the QUIET Practitioner Network and AVETRA.
VDC also promotes sustainable education practices through supporting CERES education programs and by contributing to the international Ocean Clean Up initiative.
In your opinion, what distinguishes vocational education and training from other educational paths?
The accessibility to programs, reasonable time commitment, and the practical application of what is taught are the defining features of VET in my opinion. The FREE TAFE and government subsidised courses initiatives across Australia makes VET an attractive education option. 
VET allows participants to do any of the following:
enter the workforce with education that has a clearly defined outcome and creates real employment opportunities

be a second chance learner in an environment that better suits their needs 

keep their skills current for their existing profession 

enhances skills for career progression or change

just learn for the sake of learning
Which challenges do you think the vocational education and training sector faces today?
VET has a pivotal role in addressing the skills shortages facing Australia in the face of climate change and recent global issues. The sector is not immune to this and faces educator and trainer workforce shortages itself. The challenge for VET will be to attract the expertise from industry to train our future workforce. I've heard it said regarding teacher shortages, it's a skills drought not a skills shortage we're experiencing as the expertise is there in industry already. Industry, government, and education providers need to collaborate to engage industry experts to teach and support a sustainable knowledge transfer.
VET has always had to fight for broader acceptance in the community in terms of status in comparison to higher education. Ongoing efforts by career advisors and training providers to educate secondary school teachers, students and parents of the virtue of a VET career path are making inroads on this.
In your experience as a CEO, what are five things you recommend every CEO do to achieve success?
Leadership - Provide a positive working environment for your employees and board through leadership that is focused, inclusive, supportive, and client orientated.
Governance - Constantly review and refine your Strategic, Financial, Risk Management and Compliance planning and obligations. Provide strategic advice and strong governance support for your Board.
Planning - Be organised, plan ahead so you will be ready to anticipate and adapt to any changes that occur to your business. Ensure your tools and resources are current and robust.
Professional Development - Provide career development opportunities for yourself and your employees. You don't own people, but you have a responsibility to develop and nurture their and your skills for all to benefit.
Get over yourself – Listen to others, make informed decisions. It's not all about you. You are the custodian of a role, not the owner.
In what ways does the VET Development Centre collaborate with the Victorian Government and the Department of Education and Training?
The VDC was established in 2005 by the Victorian Government to promote the development and raise the professional standing of people working in the Vocational Education and Training (VET) Sector. 
The VDC is a public company limited by guarantee, with the Victorian Minister for Training and Skills as the sole member, however no dividend is part to the Minister's portfolio. There is no membership fee to access VDC programs/events and free events are available to all within the VET Sector.
The VDC is governed by an independent Board of Directors appointed for their specialist expertise in VET, workforce development and corporate governance. As a public company the VDC can and does provide professional learning programs, training room hire, online hosting and other professional services across Australia.
As part of its professional learning programs, VDC delivers and facilitates Victorian Government funded continuing professional learning and evaluation activities to the Victorian VET workforce that are employed at Skills First contracted providers. The Department of Education and Training established the Victorian Skills Authority in 2021. The VDC now collaborates with DET through supporting the VSA and is the principle means of VET teacher professional learning for the Victorian Government. 
What are the main events and programs that our readers should attend that are organised by the VET Development Centre.
VDC runs a complimentary thought leadership series each year. This comprises 4 national seminar/webinar events of 90 minutes that feature prominent speakers on topics of interest to the VET Sector.
The VDC World Teachers' Day event is held on the last Friday of October and is a celebration of VET educators and trainers. This is a complimentary 90-minute national seminar that is held online and features keynote speakers, panels and documentaries.
The VDC Teaching & Learning Conference has been held for the past 17 years and is considered one of Australia's leading T&L conferences. This two-day event has been held successfully online since 2020 enabling a greater reach for the event.
Throughout the year the VDC Professional Learning Program runs across 2 semesters and is an exciting mix of webinars, workshops and hybrid workshops mainly focussed on educator / teacher topics including Assessment Essentials, Industry Engagement, Leadership & Management, Mapping & Validation, Quality, Compliance & Auditing and Teaching & Learning Strategies.
All Sessions are aligned to the Teaching, Assessment, Systems and Compliance, and Industry, Community and Collaboration domains and related capabilities / learning outcomes as prescribed in the VET Practitioner Capability Framework (IBSA 2011).